Practical Informations
The 2015 edition of "Les Journées de la Céramique Paris" will take place from Thursday July 2nd to Sunday July 5th
Schedules: from 11am to 8pm / Free entrance
Place: Place St. Sulpice, 75006 Paris
Metro: Line 4 / stop St. Sulpice
Bus: 63 and 96
Pay Car Park: Under the Place St. Sulpice
Childrens'workshop : Saturday and Sunday afternoons from 2pm to 6pm
Restaurant and Ceramic Café
Bookstall: specialised press, reviews, books…
Ceramic materials suppliers: clay, glazes, kilns, tools...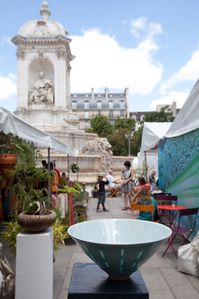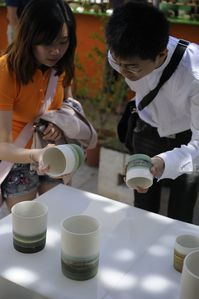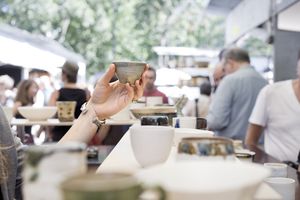 The "Café Céramique"
An absolute must at "Les Journées de la Céramique Paris".
A moment of luxury and discovery in partnership with "MEO Café" coffees.
The visitor may choose a recipient in which to savour a drink among the magnificent collection of cups and bowls loaned by the 100 exhibitors.
An intimate rendez-vous with beauty and discovery, a moment calling on all forms of sensitivity.
A metamorphosis of a coffee consumer into an art connoisseur.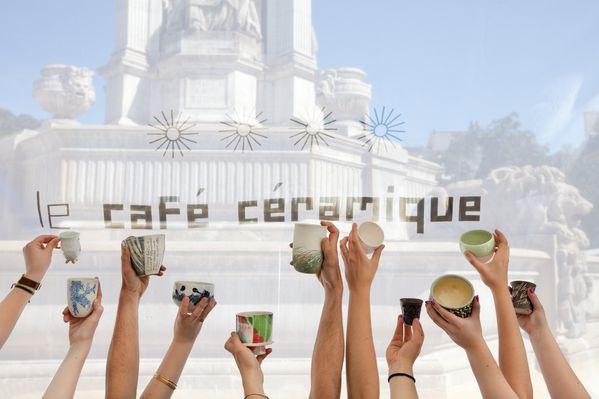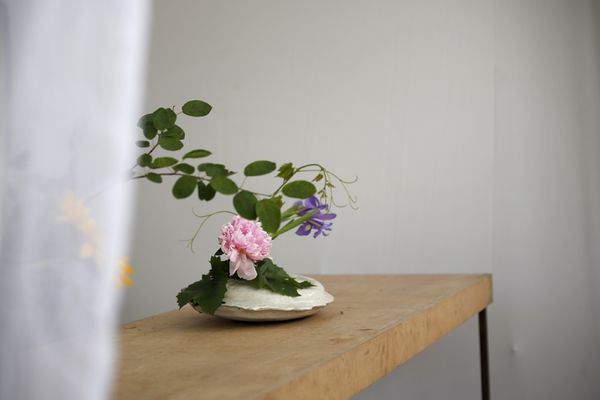 The spirit of "Les Journées de la Céramique Paris"
The Paris Potier Association was founded in 1995 to organise an important ceramics event in Paris.

The art of ceramics dates back thousands of years and is universal, easy to approach, but nevertheless still lacks recognition in France. Paris Potier hopes to share their love of ceramics with enthusiastic and curious visiters with an event that really puts ceramics in the limelight.

"We wished to create a convivial outdoor quality event highlighting contemporary ceramic art as well as utility ceramics.
We hope to seduce the general public with difficult creations and, at the same time, reconcile the enlightened connoisseurs with popular ceramics, in the heart of Paris without the filter of the gallery door, often difficult to push open, it all happens naturally".

Madame Leroux, cultural deputy for the 6th arrondissement of Paris, received the project with great enthusiasm, and introduced us to the "Foire St. Germain". We became part of this well known annual event associating "Les Journées de la Céramique" with the antique dealers, poetry, music and theater. Ceramics are now well implanted on one of the most beautiful squares in Paris, cultural capital, set in a village of huts typical of the Parisian "bouquinistes" with an experienced technical organisation. A dream !!!

Our idea was to offer an individual space to each ceramist to allow a clear display of their work and to privilage a personal présentation of their universe to the visiters. With time we have gained confidence and imagined more ambitious events to attract the public in the hope of developing a lasting interest in the vast variety of ceramic creations. Events such as thematic exhibitions,
The Ceramic Café, or the jewellery parade…

Our faithfull partners (Ateliers d'Art de France, Mairie de Paris, Ceradel), attentive collaboraters (decoraters, graphic artist) as well as the Foire St. Germain Association's efficiency animated with the desire to develope cultural évents, not forgetting the volontary helpers and friends, have all contributed to the success of "Les Journées de la Céramique Paris".
Lastly and above all, each year we have asked more of the ceramists. They have contributed more than we could have hoped for, surprising us beyond our imagination, and gaining the admiration of the organisers !!

The Paris Potier team
See you soon!